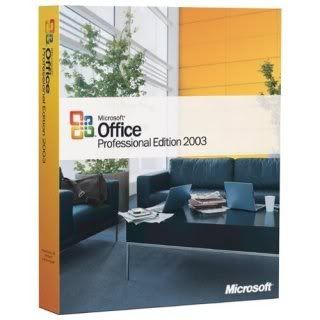 Microsoft Office Professional Edition 2003 Full ISO
[*]Microsoft Office Word 2003
[*]Microsoft Office Excel 2003
[*]Microsoft Office Outlook 2003
[*]Microsoft Office PowerPoint 2003
[*]Microsoft Office Access 2003
[*]Microsoft Office FrontPage 2003
[*]Microsoft Office Project 2003
[*]Microsoft Office Visio 2003
[*]Microsoft Office OneNote 2003
Microsoft Office Word 2003 is the Microsoft Office word processor. Response from customer feedback, Word 2003 provide the new features to make text easier to create, share and read. Browser and the evaluation has been improved to facilitate your review and management more closely. Word 2003 XML file format support and act as a text editor. Additionally, you can use Word 2003 to save and open XML files with your database.
Microsoft Office Excel 2003 spreadsheet program of Microsoft Office, including support for XML and new features that make it easier to analyze and share information. You can designate a portion of your spreadsheet as a list and export it to Microsoft Windows SharePoint Services Web site. Smart tags in Excel 2003 are more flexible than in Office XP, and enhancements to the statistical features allow you to analyze information better data.
Microsoft Office Outlook 2003 as program management and transmission of personal information of Microsoft Office. Outlook 2003 provides a unified place to manage e-mail, calendar, contacts, and information of groups or individuals. Many solutions are enhanced in Outlook 2003 - new cached mode, automatic grouping of messages, junk mail handling, improve reading ability - an impressive improvement in the way you organize and manage information, enhance performance and user access.
Microsoft Office PowerPoint 2003 presentation graphics program from Microsoft Office, lets you create a presentation in person or online. With improvements to the general user support and recognition (Smart Tags), PowerPoint 2003 makes it easy to view and create graphics. Sound in PowerPoint support is also improved. You can save files to CD, and in conjunction with Microsoft Windows Media Player allows you to play the slide show and video.
Microsoft Office Access 2003, database management programs of Microsoft Office, offering improved ease of use and an expanded ability to import, export, and work with XML data files. Working in Access 2003 is easier because common errors are identified and marked, then you will get options to correct them. A new feature to help designers identify the database is a reliable target.
Microsoft Office FrontPage 2003, the creation and management of Microsoft Office Web site, offering technology and powerful control features to help you design better Web sites, automated coding process faster, and open broad capabilities of the Web by incorporating XML and connecting to external data resources. FrontPage 2003 offers scalable publishing Web pages into advanced, interactive Web site for Microsoft Office Publisher 2003, the business publishing and marketing of Microsoft Office documents makes it easier than ever to create formulation, design, publish professional marketing and communication materials. You can create for print, e-mail, and Web uploads using the same familiar user systems other Microsoft Office programs.
Microsoft Office Project 2003, part of the Microsoft Office system, is a family of products including Microsoft Office Project Standard 2003, Microsoft Office Project Professional 2003 and Microsoft Office Project Server 2003. Project Professional 2003 and Project Server 2003 work together to provide solutions for Enterprise Project Management (EPM), a powerful agencies arrange business initiatives, projects, resources for better business results. By using the flexible reporting, and analysis capabilities of the program, you can be sure that you have useful information to help you assess optimistic about the initiative, prioritize work, and align projects with business goals and objective.
Microsoft Office Visio 2003, business programs and charts scientific and technical applications of Microsoft Office, to help you transform ideas and exchange of goods data into diagrams. Visio helps you better understand and communicate important information, so you can improve the decisions about their mode of production, building consensus among agencies, improve communication, and professional.
Microsoft Office OneNote 2003, program management and notes of Microsoft Office, lets you capture, organize, and reuse notes on a laptop or desktop computer or Tablet PC. OneNote 2003 gives you a place to capture multiple forms of information, including books written or typewritten, hand-drawn diagrams, recordings, photos and pictures from the Web, and information from other programs. OneNote 2003 helps you organize and use the information you want, so you can better manage the deluge of information you face every day.
Key:GWH28-DGCMP-P6RC4-6J4MT-3HFDY
http://uploading.com/files/2172aec2/Office%2BSuite%2BPro2003.iso.006/,
http://uploading.com/files/9m17323a/Office%2BSuite%2BPro2003.iso.001/,
http://uploading.com/files/e45dm751/Office%2BSuite%2BPro2003.iso.002/
http://uploading.com/files/a3b9a4d2/Office%2BSuite%2BPro2003.iso.003/,
http://uploading.com/files/93mab629/Office%2BSuite%2BPro2003.iso.004/,
http://uploading.com/files/f1e4bdac/Office%2BSuite%2BPro2003.iso.005/,